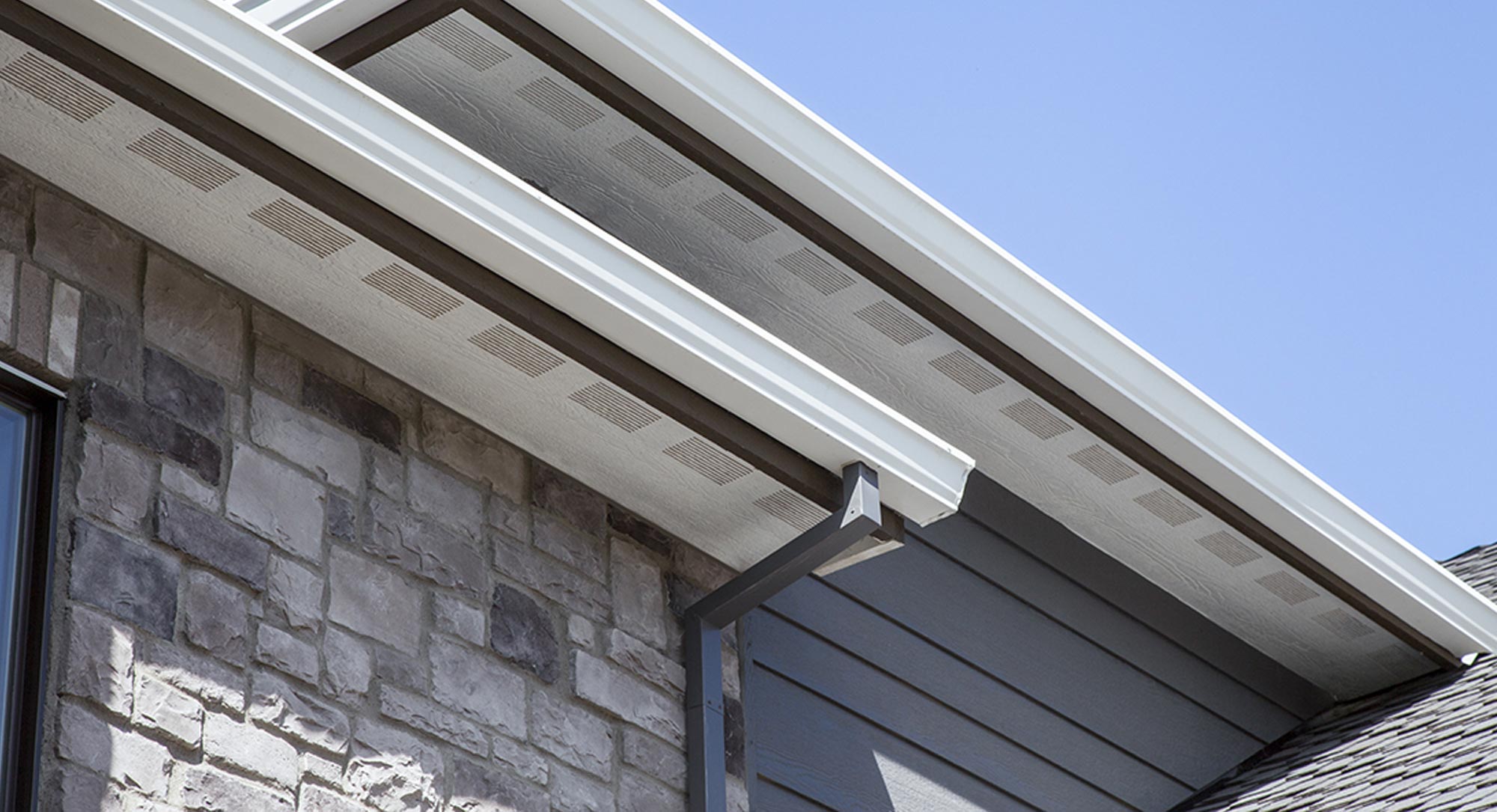 Soffit and Fascia

in Eau Claire, Chippewa Falls, and Menomonie
Extend your roof life with affordable, customizable soffit and fascia from Rock & Tait in Eau Claire. Soffit and fascia protexts your roof and boosts your curb appeal.
Request an Estimate
Add finishing touches with soffit and fascia.
Soffit and fascia protects the roof and interior of your home from water damage, while also boosting it's curb appeal.
When it comes to curb appeal, the first things we often notice are siding, windows, and the front door. But accent features can significantly change the outward appearance of your home and give it a uniquely finished look. Soffit and fascia are also incredibly important to the overall function of your home.
Soffit, the exposed siding below a roof's overhang, maintains a consistent and controlled airflow between your roof and your attic. Without quality soffit, you run the risk of a poorly ventilated, humid attic, causing harmful mold to form. Soffit also helps keep insects, animals, and water out of your house.

Fascia, the siding directly above your soffit and behind the rain gutter, protects your home from excess moisture getting in. It's also what your rain gutters are installed on. Gutters further shield your home from water damage, so it's important that you're fascia is able to support the gutters, during everything from torrential downpours to extensive amounts of melting snow.
The best time to get new soffit and fascia is just after re-roofing or before re-siding. Whether you choose vinyl, fiber cement, or engineered wood siding, Rock & Tait provides expert area installers to ensure the job is done right.
Contact our Eau Claire area siding contractors today
Our Soffit and Fascia Product Lines

LP® has redefined traditional building materials with treated engineered wood products that are designed to offer game-changing durability, beauty, and workability. Learn more.
---

James Hardie® is the world's #1 producer and marketer of high-performance fiber cement and fiber gypsum building solutions. Learn more.
---

CertainTeed® vinyl siding offers exceptional durability with an industry-leading spectrum of fade-resistant colors and a Lifetime Limited Warranty. Learn more.
---

Norandex® premium vinyl siding products are quality manufactured and performance engineered to high industry standards. Learn more.
---

For generations, low-maintenance Mastic® siding from Ply Gem has been the premium vinyl siding for extreme weather. Learn more.
My wife and I are very happy with our new windows, doors, roof, and siding. Any problems were fixed quickly without hesitation. We recommend Rock and Tait highly!
Scott Parker
Rock & Tait provided nothing short of exemplary professionalism, workmanship, and service on our siding project. The job was done and done right, from start to finish on a daily basis. The communication between us, the job manager, site foreman and his assistant, office staff, and the owners was excellent. They always made time for our questions and made sure that we were 100% happy. Thank You for making this major project seem so trouble-free. We will be back.
Jim Voss