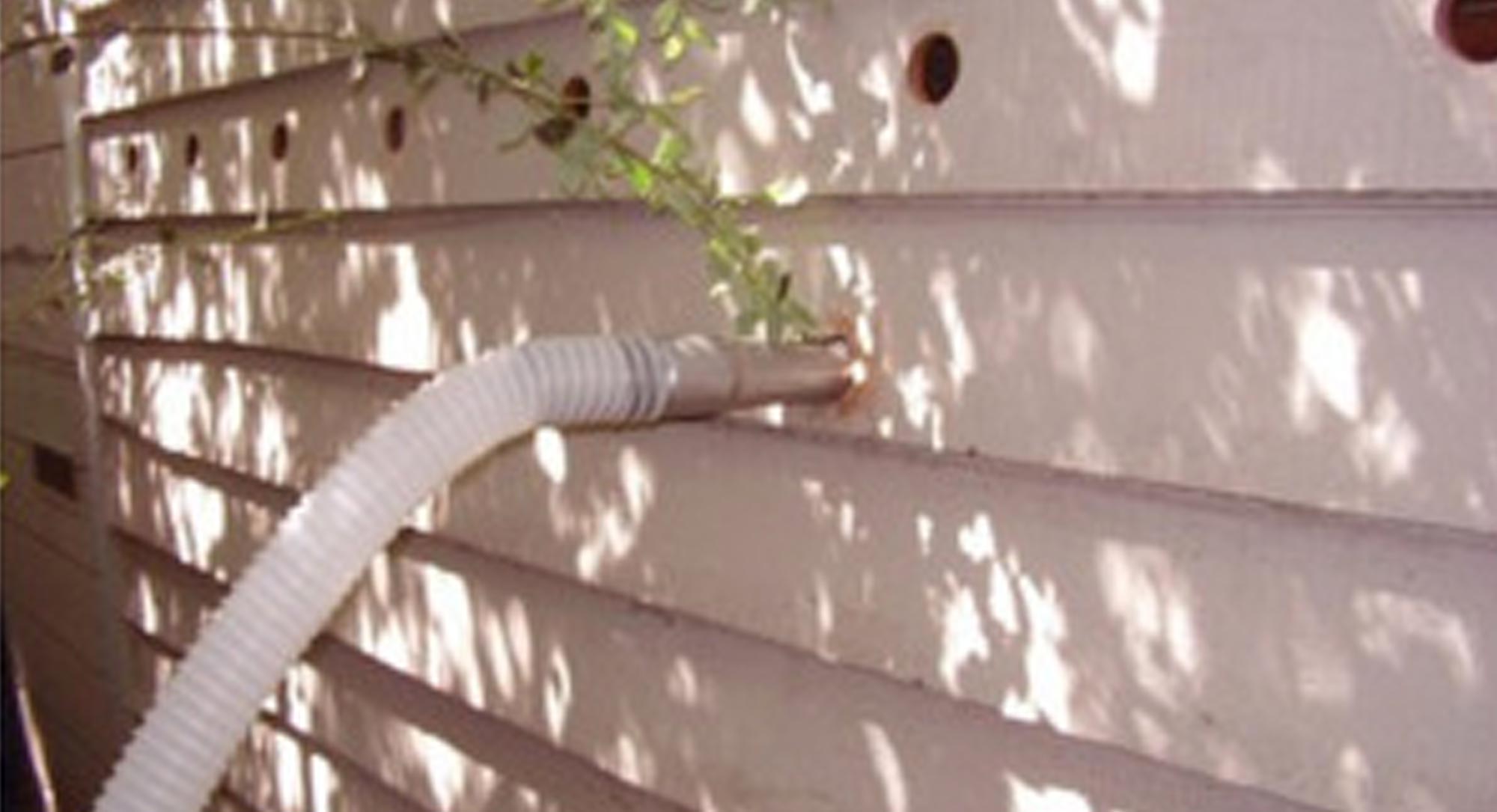 Dense Pack Insulation

in Eau Claire, Chippewa Falls, and Menomonie
Dense packing insulation creates a complete air seal, eliminates air infiltration, and maximizes R-value. With less heating and cooling loss, you'll lower your energy bill.
Request an Estimate
Seal it up with dense pack.
Dense pack insulation creates a complete air seal, eliminates air infiltration, and maximizes R-value — meaning less heating and cooling losses for a more comfortable home environment and a lower energy bill.
Not only will your energy bill be lower with dense packing insulation, but your home will have a layer of protection against moisture, mold, pests, and fire. The exterior walls of your home are insulated by drilling holes and then blowing loose fiber insulation into the wall cavities at high pressure. When cellulose insulation is pneumatically installed at high velocity to densities greater than 3.5 pounds per cubic foot, it acquires a unique air sealing property. In this process, the material behaves as a liquid, flowing into obscure bypasses and solidifying them.
Why cellulose and not fiberglass? Cellulose has a higher density than fiberglass, making it the better insulator. Made from recycled paper saturated with fire retardant, it cannot be started on fire even with a propane torch. It also guards against vermin and is moisture resistant, preventing mold, rotting, and odor.
Contact our Eau Claire area insulation contractors today
Our Dense Pack Insulation Product Lines

Weather Blanket® is premium cellulose dense pack insulation from Modern Insulation. Learn more.
Get Started
---
At Rock & Tait, we help you create an insulation plan, including dense pack insulation, that can lead to thousands of dollars in savings.
Request an Estimate
My house was built in the 1930s and likely hadn't been meaningfully insulated since. This year, I decided to bite the bullet and get it done (plus attic venting, bathroom fan, and basement crawl space insulation). It's only been finished for a few weeks, but I can definitely feel the difference already! With gas bills skyrocketing this winter, I'm very much looking forward to seeing what a difference this will make. Rock & Tait did a great job, and I'm so thrilled to have this finished!
Laura Buchholz
The Rock & Tait team that came to our house to redo our attic insulation and ventilation did a fantastic job. The team was troopers crawling into some tight spaces to make sure our house would be airtight. We were also very impressed with the quality of work and craftsmanship on our awning that needed to be replaced. We can't recommend them enough!
Justin Kaatz
I had an energy assessment earlier this spring and after receiving my detailed assessment I reached out to Rock & Tait. Our project was more than just insulating due to some complex design flaws within our home. The service was excellent and their communication throughout the project exceeded expectations. They were meticulous in the details and it showed in our follow-up energy assessment. Well worth the investment!
Jeffrey Henon
Rock & Tait insulated and dry-walled my garage. It made a huge difference in the temperature inside the garage. Work was done quickly and clean-up was done promptly. The cost was minimal and saved me many labor hours. I highly recommend Rock & Tait!
Mike Drexler
Rock & Tait put together an itemized estimate for us based on our energy performance test results. We were able to prioritize the items completed and went from a 1575 CFM -ACH of 4 down to 792 CFM -ACH of 1.9 = 51% reduction in air loss! Our heating and air system doesn't have to run as hard or as long as before = $$$ saved. I couldn't be happier that I selected Rock & Tait. Their ability to do it all made the entire process easy.
Rick Podolak
Our experience with Rock and Tait was positive all the way around. They arranged for an energy audit and followed up with recommendations. They communicated the plan and kept us up-to-date with progress. Everyone on the crew was professional and friendly. We had our 1960s house reroofed, some windows and a storm door replaced, the attic insulated, ventilation added, and exhaust fans installed. I would work with them again!
Joyce Olson