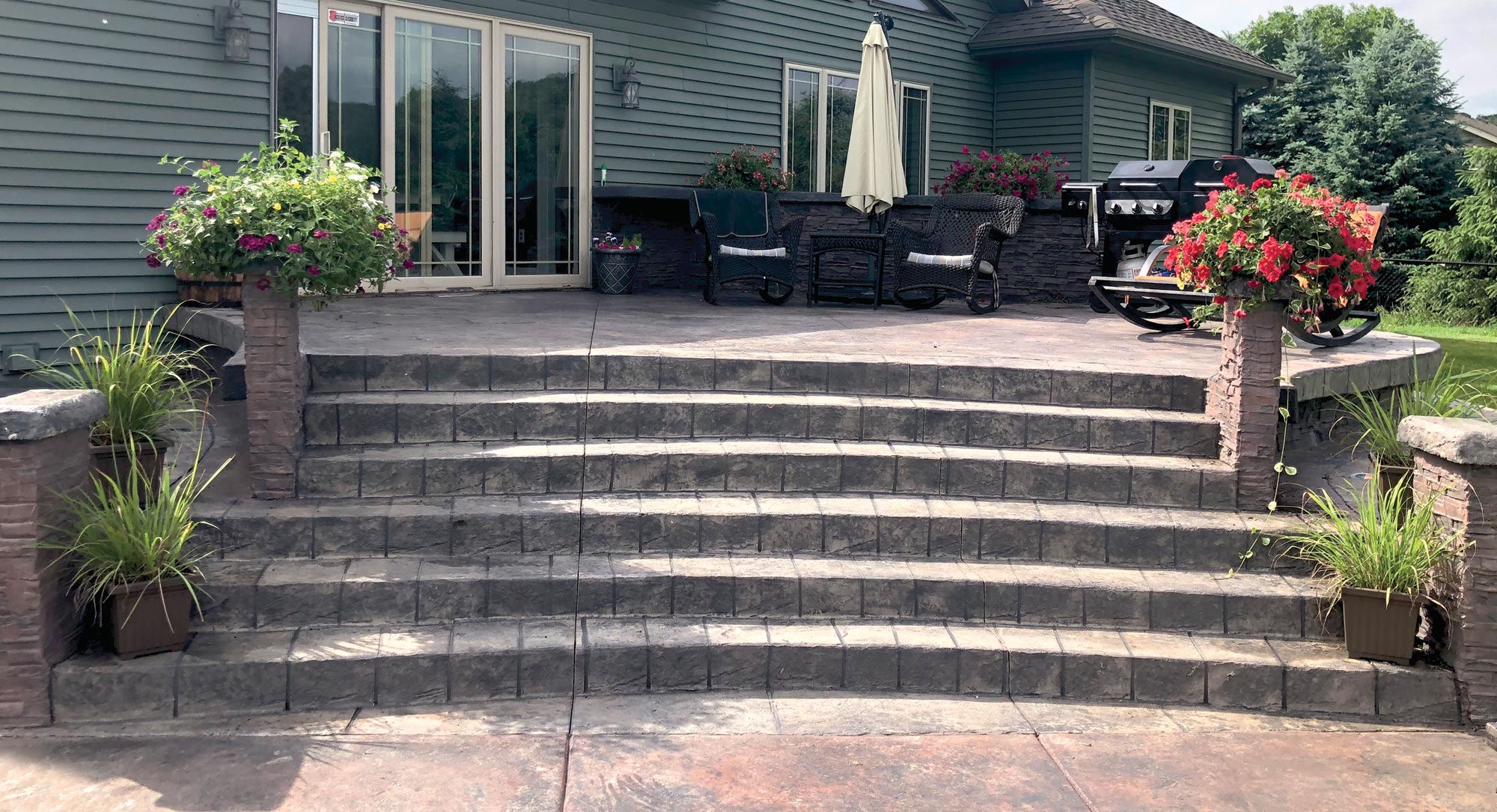 Stamped Concrete

in Eau Claire, Chippewa Falls, and Menomonie
Give your home an upscale, custom look with stamped concrete handcrafted by our Eau Claire area expert concrete contractors.
Request an Estimate
Customize your driveway, walkway, or patio with stamped concrete.
With so many pattern and color options, stamped concrete can give your home an upscale, custom look.
Replicate natural stone, wood, or brick with durable, eco-friendly concrete. The process involves impressing a pattern into colored concrete with special stamping tools. The result is a stronger, more durable surface that is an economical replica of more expensive materials, and yet, still maintains a very natural, authentic look.
It is a very durable and long lasting paving material, highly resistant to cracking even when exposed to harsh winter weather. Very slight cracks could occur over time; however, those cracks are very hard to detect because they blend into the pattern.
When you're choosing colors and patterns for your stamped concrete project, we will help ensure they blend with other stones, tiles, and texture elements in the space.
Decorative Concrete Stamp Patterns & Color Combinations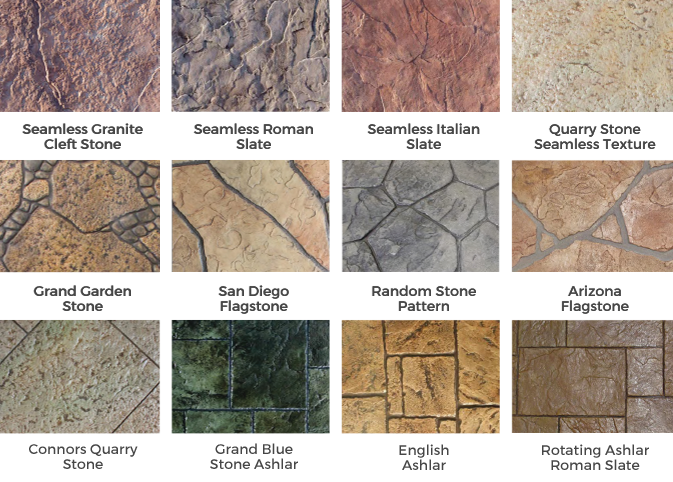 Cobblestone and Brick Stone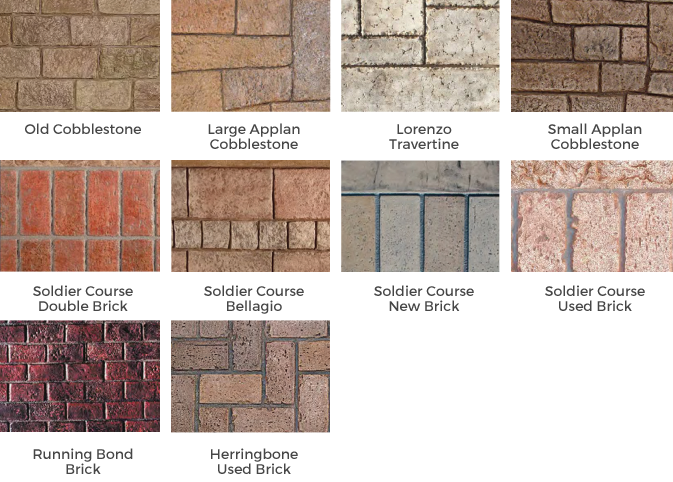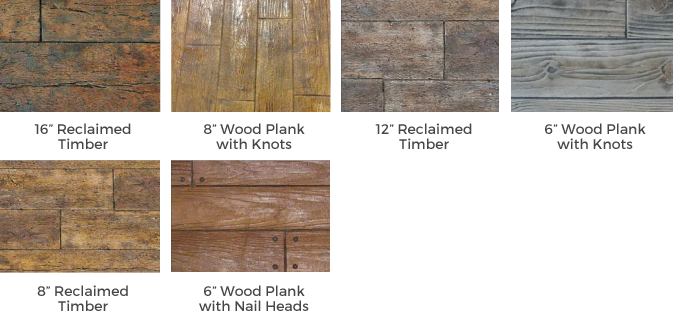 Choose your base color and a contrasting release color to add depth and dimension for a natural look. Below are our most popular color combinations. The final color may vary due to various curing methods, finishing techniques, and variations in raw materials.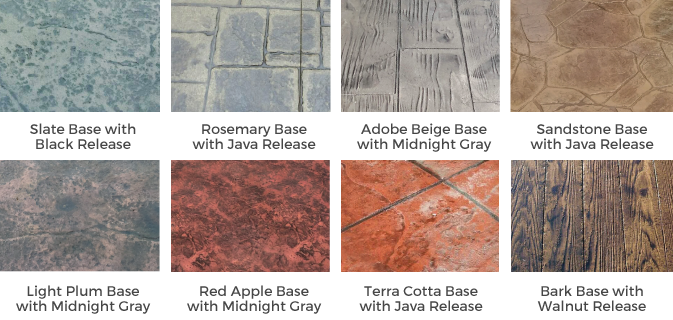 You can rely on Rock & Tait to help you determine what stamp pattern, design, and colors will work best in your space.
Contact our Eau Claire area concrete contractors today
Decorative Concrete Edging
Concrete borders to your landscaping are the perfect solution to a long time problem. The continuous border can follow any curve, and it stops unwanted grass and weeds from invading your flower beds.
You can get landscaping edging in the following profiles and various stamp patterns. Schedule a meeting with us to explore all your options.

Caring for Stamped Concrete
To keep your concrete's vibrant look, you should have your stamped concrete resealed every three to five years (dependent on the amount of sun and wear it receives). With our snowy winters, many people are accustomed to shoveling and salting their concrete spaces, with stamped concrete you should avoid metal shovels and salt products.
We recently had Rock and Tait do some brick pillars and concrete edging around our home. We are extremely happy with their workmanship and speed with which the work was completed. They showed up early and worked long hours to get the job done. Their employees were very kind and courteous. We have had many comments about how nice the pillars and edging look. They also did a stamped concrete patio for us last year that was everything we expected and more.
Jim Chance
We had our whole 1960s home remodeled, a concrete ramp/railings installed, a new concrete driveway poured, and our 1920s garage completely redone (windows, roof, and siding). Rock and Tait have a fantastic crew; they are passionate about their work, creative with solutions, and masters at their trade.
Christine Loftus
Rock & Tait poured a new concrete patio and front walkway in July. We had some minor issues they went above and beyond to make it right. We are thrilled with how it turned out. Thank you for your hard work and commitment to satisfaction.
Jessica Rose