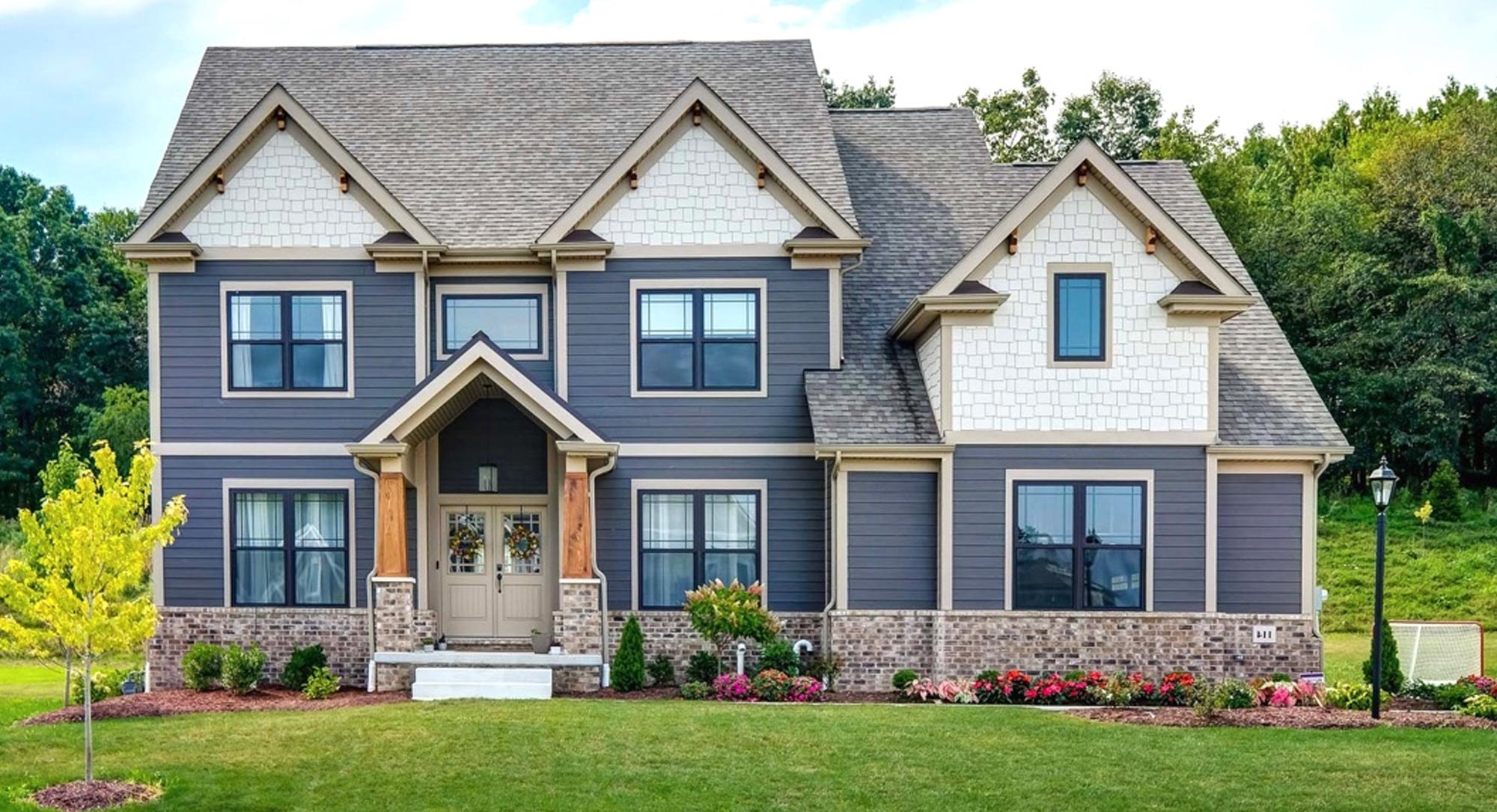 Fiber Cement Siding

in Eau Claire, Chippewa Falls, and Menomonie
Fiber cement siding offers endless possibilities for design and aesthetics, while also delivering trusted protection from weather, fire, and pests.
Request an Estimate
Fiber cement siding is exceptionally durable and versatile.
Fiber cement products by James Hardie® are engineered to stand up to the elements, and stand out in your neighborhood.
James Hardie makes the world's highest-performance fiber cement siding, trim, backer board, and more — in styles that suit every home style, from historic to modern.
Durable: Since James Hardie brand products are created to stand up to the demands of your specific climate, they will look great for years, potentially saving you time and money. Fiber cement siding is specifically engineered to withstand damage from moisture and rot. Baked-on ColorPlus® Technology has greater resistance to fading, chipping, and cracking, meaning less maintenance for you.

Fire Resistant: In case of a fire, you want to know that walls of your house will protect you while your family seeks safety. Fire feasts on wood, and it melts vinyl almost instantly. But Hardie® siding will not ignite when exposed to a direct flame, nor will it contribute fuel to a fire.

Insusceptible to Pests: Hardie® fiber cement siding offers little appeal to woodpeckers, critters, and termites. So you can focus on the animals in your life that actually make you happy.

Weather Resistant: Vinyl siding can crack in harsh weather conditions like hail storms. Hardie® fiber cement siding resists the impact of hail and windblown debris and is designed to perform in extreme heat and cold.
There are many factors that go into determining which siding is best for your home and budget, so contact Rock & Tait today to schedule a consultation with one of our knowledgeable siding experts.
Contact our Eau Claire area siding contractors today
Our Fiber Cement Siding Product Lines

James Hardie® is the world's #1 producer and marketer of high-performance fiber cement and fiber gypsum building solutions. Learn more.
Rock & Tait provided nothing short of exemplary professionalism, workmanship, and service on our siding project. The job was done and done right, from start to finish on a daily basis. The communication between us, the job manager, site foreman and his assistant, office staff, and the owners was excellent. They always made time for our questions and made sure that we were 100% happy. Thank You for making this major project seem so trouble-free. We will be back.
Jim Voss
We had Rock and Tait replace the soffit and fascia on our house this past winter. There were several issues found that they took care of for us. We are extremely happy with the job. Every line is straight and level! It looks great!
Charlie Betz
Over the years, we've hired Rock & Tait for several projects, including reroofing, installing a sun tube, constructing a 4-season sunroom, and most recently, making siding and trim repairs. For all projects, we were very satisfied with their performance, including initial contacts, scheduling, communication, and performance of the work. Their employees were professional and pleasant to work with.
Dennis Johnson
My wife and I are very happy with our new windows, doors, roof, and siding. Any problems were fixed quickly without hesitation. We recommend Rock and Tait highly!
Scott Parker