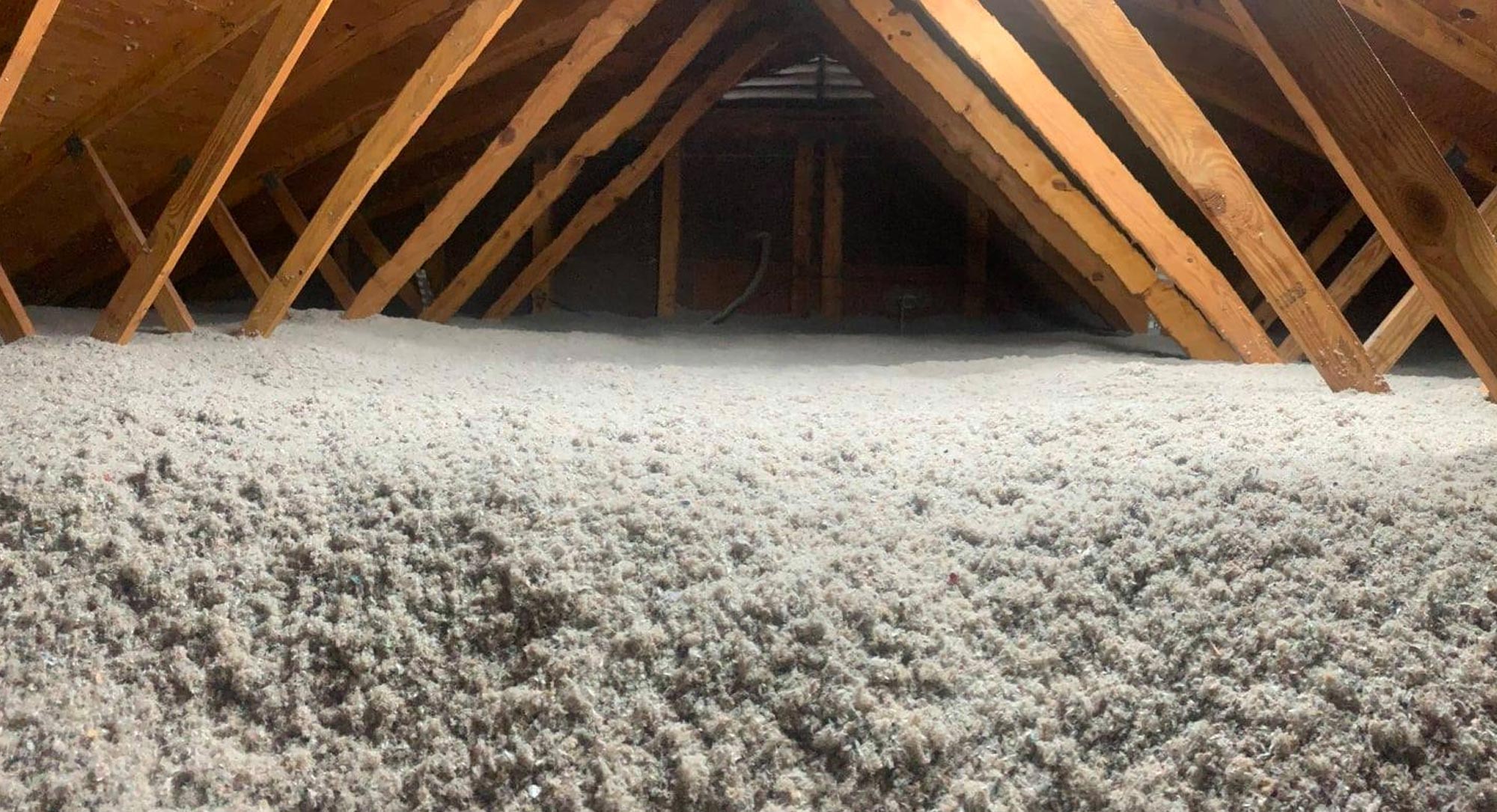 Blown-In Insulation

in Eau Claire, Chippewa Falls, and Menomonie
Install environmentally-friendly cellulose blown-in insulation in your home. Not only will your home be more energy efficient, it will also reduce your bill.
Request an Estimate
Insulate your attic.
Keep your home comfortable year-round, and avoid costly energy bills with blown-in insulation.
If you're experiencing heating and cooling loss in your house or your energy bill is astronomical, your attic may be to blame. Blown-in attic insulation protects against air leaks and is perfect for the extreme weather conditions we face. Whether you want to keep the heat in during the winter or keep the heat out during the summer, blown-in attic insulation is a great choice.
Why cellulose and not fiberglass? Cellulose has a higher density than fiberglass, making it the better insulator. Made from recycled paper saturated with fire retardant, it cannot be started on fire even with a propane torch. It also guards against vermin and is moisture resistant, preventing mold, rotting, and odor.
Contact our Eau Claire insulation contractors today
Our Blown-In Insulation Product Lines

Weather Blanket® is premium cellulose blown-in insulation from Modern Insulation. Learn more.
Get Started
---
At Rock & Tait, we help you create an insulation plan, including blown-in attic insulation, that can lead to thousands of dollars in savings.
Request an Estimate
Rock & Tait insulated and dry-walled my garage. It made a huge difference in the temperature inside the garage. Work was done quickly and clean-up was done promptly. The cost was minimal and saved me many labor hours. I highly recommend Rock & Tait!
Mike Drexler
Rock & Tait put together an itemized estimate for us based on our energy performance test results. We were able to prioritize the items completed and went from a 1575 CFM -ACH of 4 down to 792 CFM -ACH of 1.9 = 51% reduction in air loss! Our heating and air system doesn't have to run as hard or as long as before = $$$ saved. I couldn't be happier that I selected Rock & Tait. Their ability to do it all made the entire process easy.
Rick Podolak
My house was built in the 1930s and likely hadn't been meaningfully insulated since. This year, I decided to bite the bullet and get it done (plus attic venting, bathroom fan, and basement crawl space insulation). It's only been finished for a few weeks, but I can definitely feel the difference already! With gas bills skyrocketing this winter, I'm very much looking forward to seeing what a difference this will make. Rock & Tait did a great job, and I'm so thrilled to have this finished!
Laura Buchholz
I had an energy assessment earlier this spring and after receiving my detailed assessment I reached out to Rock & Tait. Our project was more than just insulating due to some complex design flaws within our home. The service was excellent and their communication throughout the project exceeded expectations. They were meticulous in the details and it showed in our follow-up energy assessment. Well worth the investment!
Jeffrey Henon