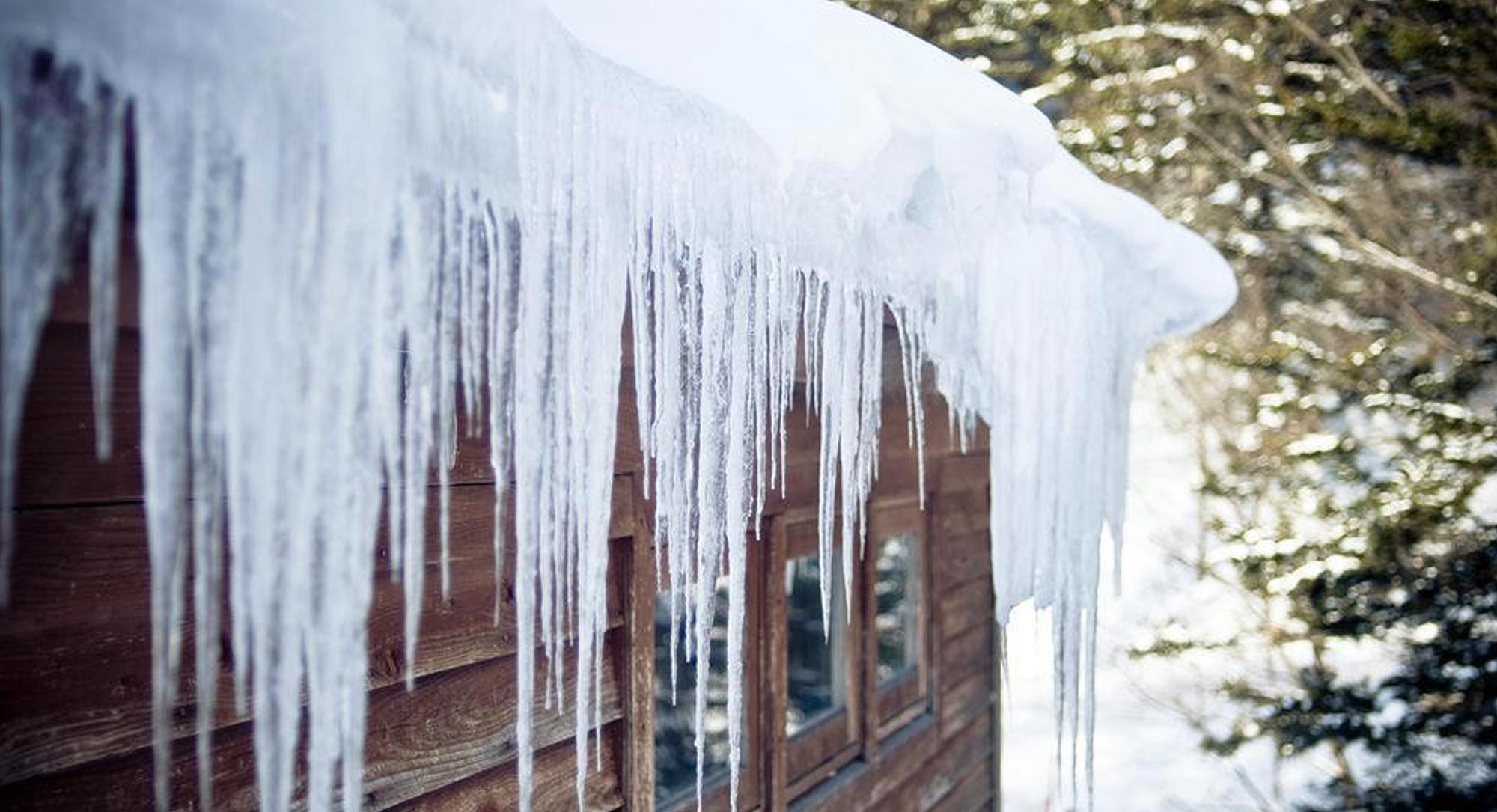 Ice Dam Removal

in Eau Claire, Chippewa Falls, and Menomonie
Ice dams can wreak havoc on your home and create dangerous walkways. Let Rock & Tait in Eau Claire steam them away and permanent recommend solutions.
Request an Estimate
Steam ice dams away.
Although ice dams occur on the outside of your home, you see the damaging effects inside your home.
An ice dam is a ridge of ice that forms at the edge of a roof and prevents melting snow from draining off the roof. The water then has nowhere to go and backs up behind the dam, leaking into your home and potentially causing damage to walls, ceilings, insulation, gutters, and shingles. There are three main causes for ice dams:
Insufficient Insulation — Without adequate insulation, it is difficult to regulate temperature in the attic space of your home.
Improper Attic Ventilation — Excessive warm air in the attic can cause the snow on the roof to melt, regardless of outside temperature.
Mother Nature — Snow must be present and the temperature must consistently be 32 degrees or colder.
Need an ice dam gone today? We can rid your home of damaging ice dams using our steaming system. It is safer for your shingles and gutters, and cuts ice removal time by half!
Contact our Eau Claire area roofing contractors today
Stop Ice Dams Permanently with Proper Insulation and Attic Ventilation
Insulate your attic with blown-in insulation. Install environmentally-friendly cellulose blown-in insulation in your home. Not only will your home be more energy efficient, it will also reduce your bill. Learn more.
Get Started
---
Need an ice dam removed before it causes permanent damage? We can help. Then, let's talk about how to stop the ice dam from coming back.
Request an Estimate
Great job on a very large re-roof that was done perfectly and in March-April during the time of the great snowfalls! We were kept appraised with comments and pictures as we were not home when they did the work. Included a new roof, all new gutters and guards, insulation of our great room, and installation of a solar tube in one bathroom. Could not be happier knowing they use their own crews and stand behind the work they do.
Thomas Kell
I started to have roof leaking issues in the spring after I purchased my home. From my understanding, it had been a perpetual problem of multiple owners. I contacted Rock & Tait and they diagnosed the problem immediately. They came up with a solution and within two weeks everything looked brand-new. They made sure to finish the job as perfectionists, rather than to meet a labor goal. Can't say enough positive things about my experience with Rock & Tait.
Jedd Smith
We just had our office roof replaced by Rock & Tait. The team was professional and safety conscious - caution tape, protective tarps, etc. Safety was important because this was during our normal office hours. They told us it would take four days and it took only three! They used a specific piece of equipment to dispose of the old roofing debris without trashing our landscaping. They even went to bat for us with the original shingle manufacturer. Thank you for a job well done!
Clara Nohre
They just don't put a roof on your home, they install a SYSTEM that will do what a roof and venting system should do, decreasing problems down the road. I wouldn't have gone to them to do a second roofing job here in Eau Claire if I hadn't been completely satisfied with their first roofing job on our house in Durand.
Constance Tealey
Several years ago, I hired Rock & Tait to re-roof our house. I was impressed with the quality of their workmanship, the friendliness of the workers, and the cleanup afterward. We recently purchased a new home and needed to have the ice dams removed the gutters cleared and new heat tapes installed. When hiring people to do work for you, it is a good feeling to hire companies that you trust. I recommend Rock and Tait without reservation.
Daniel Newman