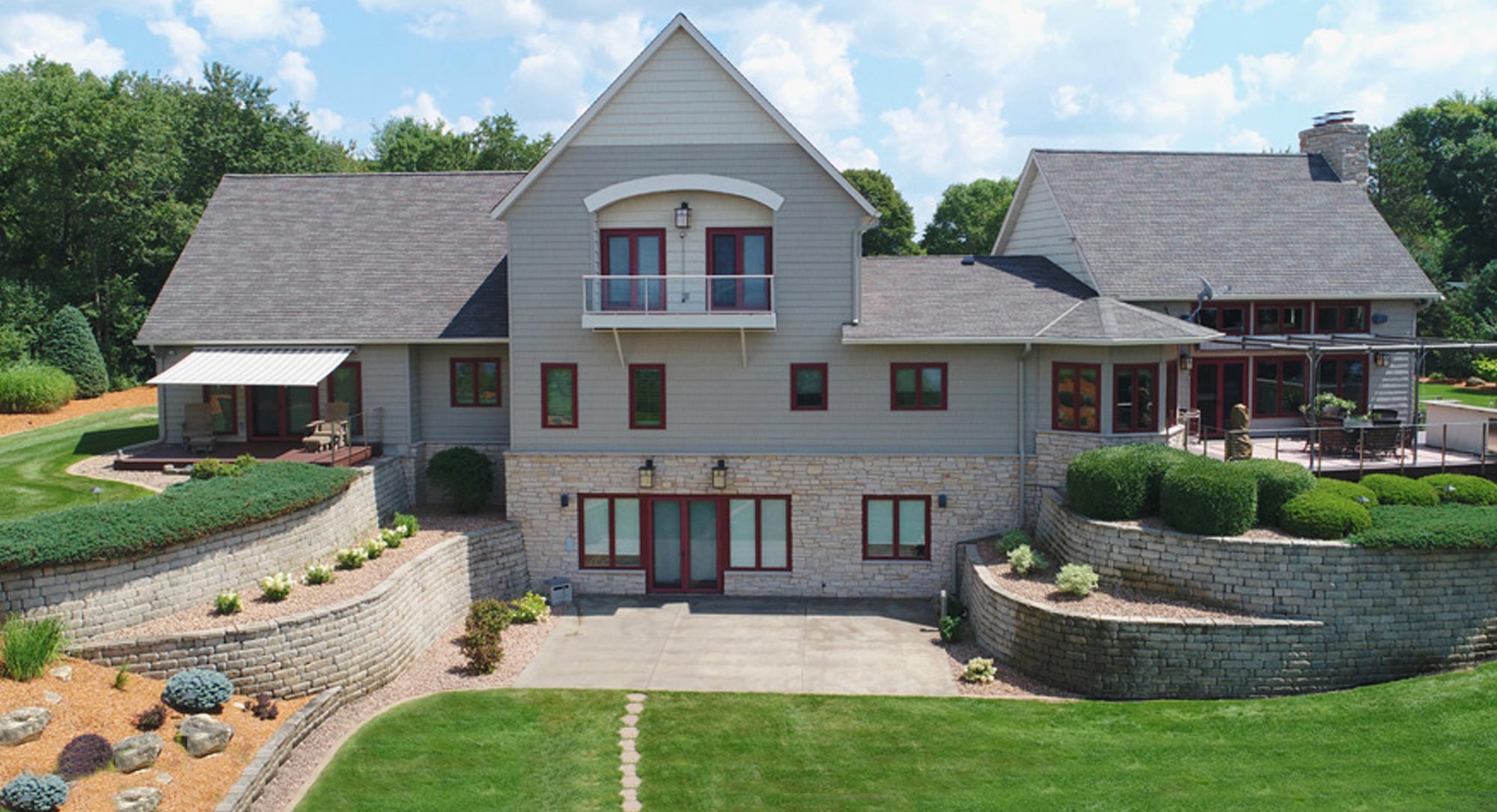 Retaining Walls

in Eau Claire, Chippewa Falls, and Menomonie
Add a retaining wall to your landscaping that is professionally installed by Rock & Tait to hold soil in place or to define a space.
Request an Estimate
Define or expand a space with a retaining wall.
Whether you need to build a retaining wall on a slope or to support your driveway or fence, the team at Rock & Tait can get the job done right the first time.
Maximize the usable space of your property by leveling the uneven areas of your yard while creating an elegant environment for your family and guests. The styles and colors of retaining walls are nearly endless — classic rock face look, rustic old-world look, and walls using multi-sized rocks. The most common materials used for retaining walls in our area are manufactured concrete block, natural drywall stone, and fieldstone boulders. Each material offers a different style and aesthetic. 
Retaining walls are typically considered a tool for keeping soil and landscaping in place. However, creative designs in your retaining walls also work nicely to add interest and frame features in your outdoor spaces. Curved designs or larger walls could add nice contrast within your patio space or yard.
Rock & Tait can help you determine what is needed in your space and where retaining walls can be used to add interest and beauty. We will also help you think through where drainage systems need to be included and determine what type of base is required.
Contact our Eau Claire area retaining wall contractors today
Manufactured Concrete Block Retaining Walls
Manufactured concrete blocks are very uniform and offer a clean look. They lend themselves well to straight, linear retaining walls and are available in a wide variety of sizes, colors, and textures.
Natural Drywall Stone Retaining Walls
Natural stone is cut into fairly uniform sizes then dry stacked. There are a variety of colors available but the most common is native to Lannon, Wisconsin and has cream and gray tones. Often used as a veneer on homes in our area, it ties in very nicely in many residential landscape plans.
Fieldstone Boulder Retaining Walls
Fieldstone boulders are irregular in size, shape, and color. They can be used for straight or curved walls and offer a more natural, rustic look. They are a good choice to maintain a sloped hillside where erosion may be an issue. Often plants are interspersed along the hillside as well to help further prevent erosion.
Get Started
---
If you are looking for a retaining wall company for your next project, give our retaining wall landscapers a call today to discuss what type and style of retaining wall is right for your property.
Request an Estimate
We had a large amount of landscaping done in the backyard. Rock & Tait was reasonably priced, responsive to last-minute changes, prompt, and easy to work with. Our backyard was a mud pit and looks great now.
Kriby Harless
Thank you for the work you did at our house! The project included revising our gutter, installing a new door (which involved vinyl siding work), creating two stamped concrete areas, building steps on two existing decks, and removing and reassembling a low stone landscape wall. We were kept informed of schedules and the work was done quickly and professionally. The men on sight were courteous and hardworking. It was an all-around pleasant experience for us!
Cindy Swenson
I can not say enough about Rock and Tait! They put in our patio and it's by far the best investment we have made on our property in more than 20 years. We love it so much! From the first phone call, the estimate process, the awesome ideas, and cost-saving tips to the job itself and the follow-ups long after the job was completed has amazed us! Seriously the best work team we have hired for any job. Can't thank their team or recommend them enough!
Susan Yessa